NASA Space Apps Challenge 2020 Event Page : http://spaceappsboston.org/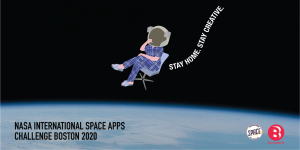 NASA International Space App Challenge(ISAC) is an international mass collaborative hackathon focused on space exploration that takes place over 48-hours in cities around the world.
In light of the COVID-19 pandemic and in the interest of our global community's health and safety,NASA and the Space Apps Global Organizing Team have made the difficult decision to make the 2020 hackathon an all-virtual event. Event date will be on 10/3 and 4.
Binnovative is organizing NASA ISAC  in Boston 7th time virtually. To participate, you can form your own teams among your friends.
 The event embraces collaborative problem solving with a goal of producing relevant open-source solutions applicable to both life on Earth and life in space. NASA expects to see wide scope of talents: programmers, designers, artists, engineers, scientists, entrepreneurs, developers, and anyone with creative mind.
YOU DO NOT HAVE TO BE A PROGRAMMER to take part in this event.
Kintone is a cloud platform for teams with a visual application builder that enables organizations to effectively manage their data and workflows for better collaboration. This is no code/low code system so attendees who don't code can build apps effectively.